| | |
| --- | --- |
| Article number: | ND-R005 |
| Availability: | In stock |
| Delivery time: | 2-5 working days |
#GEMEINSAMSTARK DEALS
Zur Zeit ist es besonders wichtig,  gesund zu denken, auf sich und die anderen GUT zu schauen.
Mit motivierenden Worten geht das leichter.
Als Motivation für dich selbst, ein Familienmitglied oder jemanden, die/den du gerade nicht sehen kannst gibt es die #GEMEINSAMSTARK DEALS.
Günstige Deals mit starken Worten für dich und deine Liebsten.
Deine beste Freundin hat Geburtstag, du kannst sie aber momentan nicht treffen? Du würdest jemanden gerne wieder umarmen, ihr/ihm sagen, dass er nicht alleine ist?
Du hast eine Heldin/ einen Helden in deiner Umgebung, zb. den Supermarkt Kassierer der Überstunden macht, um die Lager Tag für Tag wieder aufzufüllen?
Schenke Mut, Hoffnung und sag Danke. 
Wir verschicken momentan versandkostenfrei
Design by ©Viennina /Engraving: "GEMEINSAM STARK"

Fine engraving
The silver & rosegolden engraving has no colour.
The black gets a slightly silver/white engraving.

PERSONALIZE IT!!
We also engrave your own text on an "N*dividual" Design by VIENNINA.
Date of your wedding, names, favourite quotes,...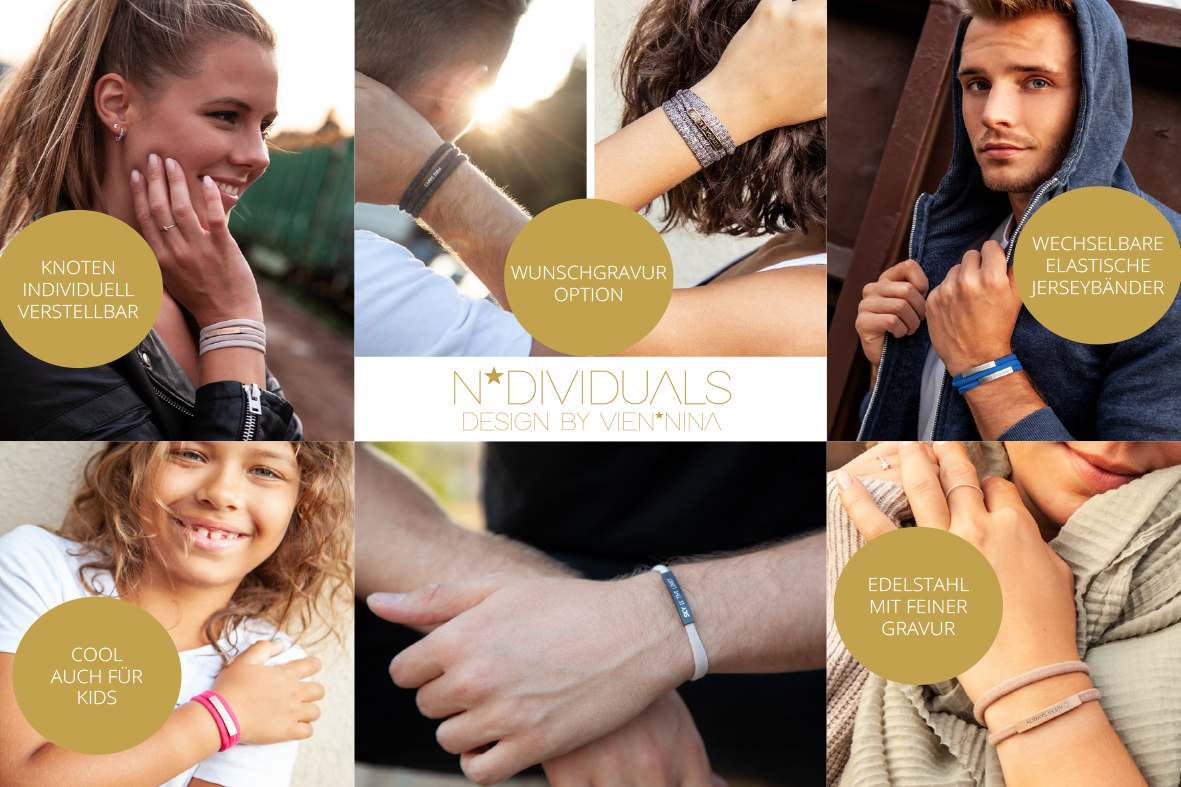 STYLETIPP
You choose a standard wristband that you can wrap up to 3- 4 times around your wrist.
As a gift we will send you the same wristband as a small band, which you can wrap 1 time.



You can also put 2 tags on one band - or you make a nice combination of an N*dividual and an N*spiracelet: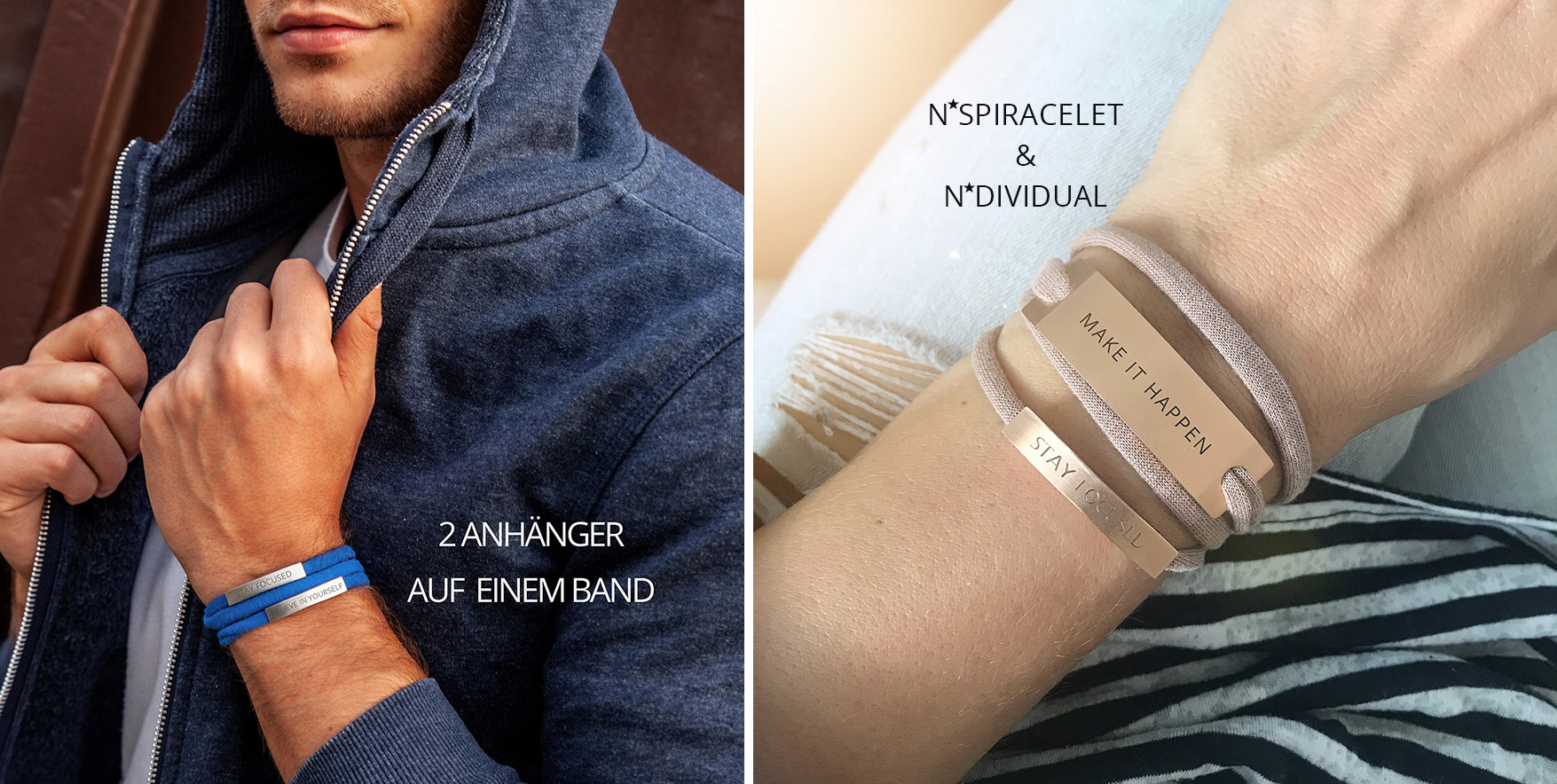 Here you can find additional wristbands to exchange 

Important: If you already have additional wristband from the "N*spiracelet" collection, we cannot guarantee, that they fit. The additional wristbands from the "N*dividual" collection are thinner, but still there is a chance that they fit, so you can try it :)
You can exchange the bands easy - we put a little yarn in your box, with this you can lace the additional wristband easily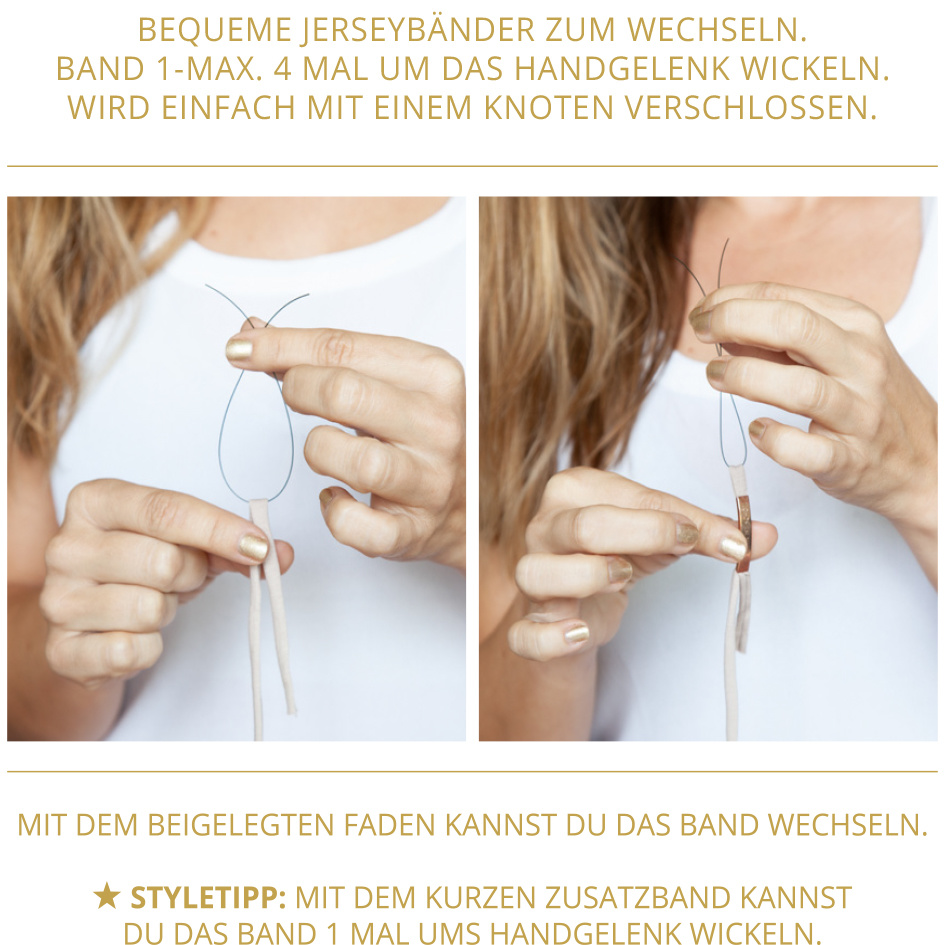 Band: elastic, washable fabric (handwash)
Tag: high quality stainless steel, non allergic. 
*The picture on which you can put in your own text is just symbolic and for inspection.
The font is without colour (except with the black tags - here the letters seem w bit white/silver)
We adjust the seize and the spacing of the letters/words.
The colour of the bracelets (tags & bands) can differ (z.B. because of the monitor settings, ..)